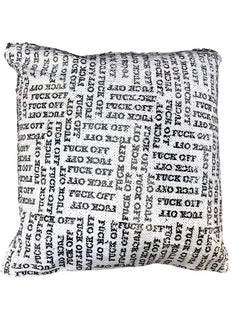 Any Old Iron Small Fucks Pillow
Tired of being woken up in the middle of a nap? Worry not, for we have got you covered! Get our Any Old Iron Small Fucks Pillow to send the message straight away to anyone who tries to interfere with your beauty rest. The subliminal messaging will be sure to let everyone know that you mean business in the most elegant and sparkly way. 
Size: 17" square
To care for this product, first and foremost, remove the cushion and turn the pillow case inside out. If the pillow case has a problem area, spot cleaning may be effective. To do so, use cool water, a mild soap, and a soft rag. Hang to dry.