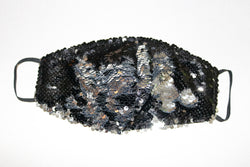 Any Old Iron Black Silver Small Face Cover
Neutral necessity alert: Any Old Iron has released the Black Silver Small Face Cover, which goes with EVERYTHING! This radiant face mask features reversible sequins on the exterior,  which flip from a shimmering black to a sparkly silver with a flip of the hand, and a luxurious satin interior lining, which feels just as comfortable as your favorite satin sheets! Along the sides of the mask, elastic ear loops can be found for the perfect fit.  It is the perfect mask for any event, from business meetings to red carpet events. Hell, its even perfect for running your errands or attending a summer festival! Its neutral palette makes it the perfect accessory for any event, any time, any where! Snag yours while you can!
This is the smallest version of the silver and black sequin mask. If you are needing something a little larger, check out the mask that fits most faces: the Any Old Iron Black Silver Cover. If you have any questions, feel free to DM us and we will get back to you as soon as possible. 
We recommend hand washing. Please use cool water and a mild soap. Rinse gently with your fingertips. Allow the garment to hang to dry. If you want to enrich your experience, add a little essential oil mist to the fabric. This mask is made out of 100% polyester, sequins, and love. 
Shipping Included, will ship within 7 days but mostly same day.
*Please note there are not N95 masks and are not intended for medical use and do not claim to prevent, cure or treat any illness. They look good though! We originally made these for festivals. God we need a festival !
Gorgeous
So original and just stunningly beautiful. I love this mask.
✨✨Beautiful ✨✨
✨✨This cover sparkles for days!!! ✨✨
✨✨So many compliments!✨✨
✨✨Get one as soon as you can!!!✨✨
Gorgeous
So original and just stunningly beautiful. I love this mask.
✨✨Beautiful ✨✨
✨✨This cover sparkles for days!!! ✨✨
✨✨So many compliments!✨✨
✨✨Get one as soon as you can!!!✨✨