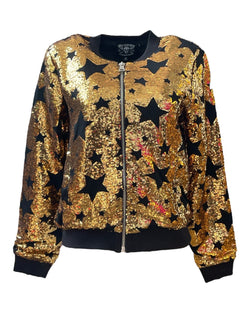 Any Old Iron Mens Goldie Bomber Jacket
Bombs away! Any Old Iron has released the newest goldie rendition: the Any Old Iron Goldie Bomber Jacket! This lightweight jacket features black stars in a sea of gold sequins. Along the waist, pockets can be found to house any essentials. With a silky satin interior, the jacket can be worn open during the warmer days and zipped up on those cooler nights. It pairs beautifully with denim and leather. However, if you like a more cohesive, golden look, you can style it with the Any Old Iron Goldie Joggers! It is the perfect statement piece for any star loving human, with a golden heart!
To care for your bomber jacket, please get it dry cleaned! If there are problem areas, you may resort to spot cleaning. However, if you do choose to spot clean, make sure that you turn the garment inside out and tend to the fabric instead of the sequins. When spot cleaning, use cool water and a mild soap or detergent. Rinse gently with your fingertips and allow the garment to hang to dry!