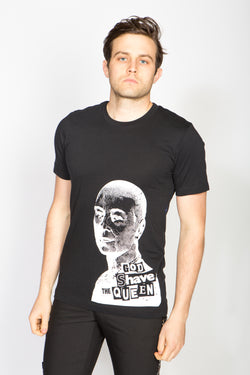 Any Old Iron God Shave The Queen T-Shirt
The name of this shirt says it all: the Any Old Iron God Shave The Queen T-Shirt features- you guessed it-  a freshly shaven Queen. On the lower corner of her silhouette, the saying, "God Shave the Queen" can be seen in a magazine cut-out font, in all its glory.
This 100% cotton, black tee is low in stock; so, if you are in love with it as much as we are, be sure to snag one as soon as possible or you risk never getting one! For once these are sold out, they will be gone. 
To care for your tee, please either get it dry-cleaned or wash it in cool water, and with a mild soap. If you do choose to wash it yourself, you can a) turn the tee inside out and use the delicate cycle of the washing machine or b) hand wash it to preserve the integrity of the print. For the longevity of the design, allow you garment to hang to dry.