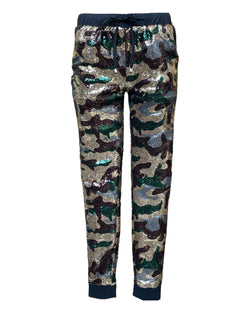 Any Old Iron Mens Camo Joggers
What is more iconic than a popular pattern getting an AOI facelift? Not a damn thing, especially if it pertains to the Any Old Iron Camo Joggers! These bottoms entail a classic jogger that is decked out in the traditional camo print, but with a snazzy twist: the camo is made entirely out of sequins. That's right, the pattern which is commonly used to hide oneself amongst your surroundings is, now, loud as ever! Shimmering rich green, jet black, gorgeous gray and dark brown sequins are used to bring these joggers to life. A black ribbed cotton is applied to the waistline and hem of the legs. Within the interior of the joggers, you will find a lining made out of the silkiest of fabrics, which will instantly transport you to your favorite satin sheets!  Needless to say, this is the perfect pair of trousers for any event, from attending a military ceremony to hitting the deer stands. It can be dressed down with our matching Camo Sweatshirt and your favorite pair of combat boots; or, it can be dressed up with a black blouse and some black heels. All we know is that the second you step into the limelight with these joggers, you will be sure to stand out and not blend in!
Shelby, our model, is 5'10" and is wearing a size medium. Since the joggers are covered in sequins from front to back, there is limited stretch in the material. Therefore, if you are wanting something a little more loose fitting, be sure to size up. If you have any questions or concerns, please DM us. 
To care for your trousers, please get them dry-cleaned or hand-washed. If you do choose to hand wash it, please be sure to solely use cool water and a mild soap. Rinse gently with your fingertips and allow the garment to hang to dry. These joggers are made out of 100% satin, sequins, and invisibility. Any improper cleaning, mishandling, or roughhousing may cause damage to the pattern