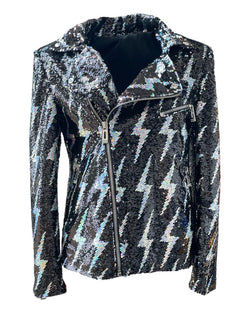 Any Old Iron Men's Black Side of Lightning Moto
 What is a more threatening force of nature than lightning? And who is the most electrifying person around town? YOU! That is why Any Old Iron has made, not only a match made in heaven ;), but a moto so riveting that it should come with its own warning label. This bad boy is pumped with hella voltage and shock-quality, as well as all the features you could hope for in a jacket. The shimmering sequins flip from a sea of striking, silver lightning bolts amongst a midnight black sky, to a swarm of black lightning bolts shooting across a pool of iridescent silver sequins.  This moto has three pockets on the exterior, with one along the chest and two around the waist, that are all enclosed with zippers. As if there were not enough zippers, one can be found on the back of each arm for optimal fit and flare. This moto is perfect for any season and any outfit. With a neutral color scheme and tiny flicks of color, this moto can be styled literally any way you want it. You can dress it down by pairing it with black denim trousers, your favorite boots, and a black tee; or, you can dress it up with black dress shoes, a black button up and matching trousers to make it a cohesive look! It is the perfect moto for any power driven, highly charged individual!
Male models coming soon. Dm us if you have any questions or concerns. 
To care for your moto, please get in dry-cleaned. If there are tiny problem areas, you may resort to spot cleaning for a quick, temporary fix. To do so, please use cool water and a mild soap to tend to the problem area. Gently rinse the fabric with your fingertips. Once cleaned, all the garment to hang to dry. For best results, tend to the fabric (the interior lining) since that is what holds scent and not the sequins.