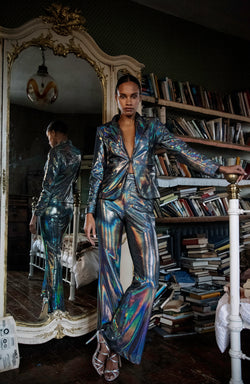 Any Old Iron Liquid Rainbow Suit
We all need liquid courage in our lives. So, Any Old Iron doubled the dose, added some sparkle, shook it - no stirring necessary, and -VOILA- the Liquid Rainbow Suit was born! This iridescent rainbow set is everything you could want and more with water-like fluidity, reflective rainbow highlights, and the ability to be worn cohesively together or as stunning separates! The blazer has two pockets on the front, waistline for easy access and a more intimate pocket within the interior lining to house your more personal items. Along the interior of the jacket, you will also find a silky smooth fabric that instantly transports you to an iridescent pool of tranquility. The trousers are a traditional fit and flare. You can dress it up with some accessories, like layers of jewelry and some statement shoes; or, you can dress it down with some chunky sneakers, a rock n' roll tee,  and a crossbody bag. While it is a suit, the breathability and comfortability make it perfect for any season; especially, for those cooler days and those even cooler nights. 
Our model is wearing a size small. If the small is not the size that you are looking for, you can place a custom order for it to be made to your measurements. DM us if you have any questions or concerns. 
To care for your suit, please get it dry cleaned. If there are tiny problem areas, you can resort to spot cleaning for a quick fix. To do so, use cool water and a mild soap/detergent. Rinse gently and allow the garment to hang to dry.