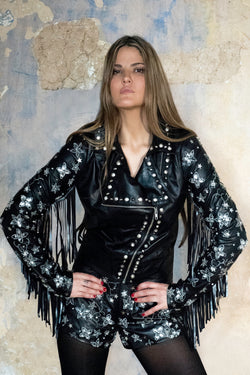 Any Old Iron Fleur Moto
Be the botanical beaut you are and blossom in the new Any Old Iron Fleur Moto! This floral favorite features a black leather jacket covered in silver rhinestones and studs; fierce leather fringe; and intricate, hand-beaded flowers. The brilliant rhinestones and studs can be seen along the collar and continue down the sides of the zipper. From the wrist to the top of the sleeve, a whimsical, crystallized garden comes to life. However, on the underside of the arms, a row of long, fabulous fringe sways to and fro with every movement you make. Within the interior of the moto, a soft lining is administered for optimal comfort and ventilation. Needless to say, this moto has it all: looks and function! It, also, utilized a neutral color palette that goes with everything! You can style it with a pair of black leather trousers for a night out on the town or pair it with a little black dress for a date night. If you are as obsessed with flower power as we are, you can even style it with matching leather shorts! 
Our model is wearing a size small. If a small is not your go to size, no need to fret! This jacket is available for custom orders! You can, also, have your jacket made with or without the fringe. DM us if you have any questions or concerns. 
To care for your moto, please get it dry-cleaned. It is made out of 100% leather, hand-beaded craftsmanship, and floral flair!